HVAC Copper Pipe

Because of its excellent thermal & electrical conductive properties, copper is widely used as core parts in heating, ventilating, air Conditioning and refrigeration systems.

Winland supplys copper pancake coil, copper LWC, copper capillary tube, copper inner grooved tube for HVAC & refrigeration applications.
The production according to ATSM B280, BS EN12735, JIS H3300 standards, to ensure the tubes meet requirements of appearance, tesile strength, grain size and so on.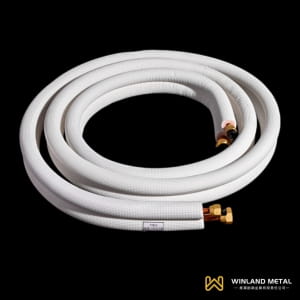 Our pre-insulated copper tubes are very popular for air conditioning mantaince. The tubes comes with brass flare nuts. 
Each set of insulated copper pipe has two ACR grade tubes, which in different sizes and pre-insulated by IPXE or black rubber material.
Click to download  HVAC copper tube catalog or insulation copper tubes catalog, get free quotation now!
HVAC Copper Pipe Product List
Free Quotation